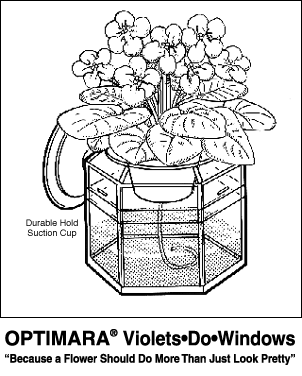 Sheet# A-01180
SAU 2 x 7 col. in. and 1 x 3.5 col. in.
[Copy:] Optimara's Violets-Do-Windows is a fun way to get more from your Miniature Violets. Optimara Miniature Violets in the self-watering MiniWell now come with a durable suction cup so that you can put them on windows, mirrors or just about any smooth, flat surface.
Violets-Do-Windows are also available with the Optimara Magic Cloud. Made of removable static vinyl, the Magic Cloud is an inexpensive sun filter that protects your Miniature Violets in direct sunlight.
Optimara Violets-Do-Windows. Expect More from Your Flowering House Plants.
For More Information . . .
For more information about line art for Optimara products, send e-mail to sales@optimara.com.
Copyright 1999-2002 Optimara/Holtkamp Greenhouses, Inc. Nashville, Tennessee. WaterShip, WaterShip Instant Merchandising, Violets-Do-Windows and Self-Watering Ceramics are trademarks of Holtkamp Greenhouses, Inc., USA. Optimara, the Optimara logo, MiniWell, MaxiWell, WaterShip and Watermaid are trademarks of International Plant Breeding, A.G., Switzerland.