2021 Catalogs
New Varieties
Space Violets
Online & Mail Order
Variety Identification
Care Instructions
Self-Watering Tech
& Qwick™ Covers
Optimara Products
Ceramic Plant Ware
Special Occasion
Watership Tech
Company History
Awards Received
AVSA 2014 Show
Other Optimra Sites
Contact Optimara
Safety Data for
Optimara Fertilizer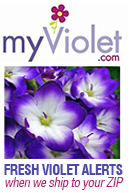 Optimara is Earth's largest grower of African Violets

With the widest selection of full-blooming varieties, Optimara continues to advance the industry with new plant varieties and innovative growing techniques, constantly refined over years of research and development. We create new, exciting plants and care products which are trend-setting and truly functional. Our effort is to continue offering customers a unique selection of flowers in a beautiful product line.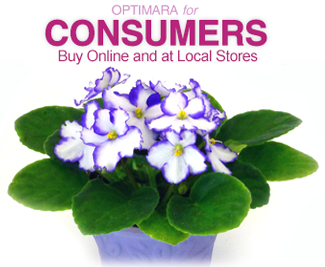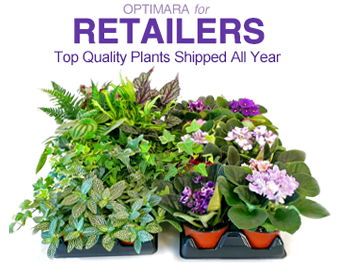 Our company was founded in 1904, by Martin Dorrenbach in Isselburg, in the lower Rhein Valley of Germany. By the 1930's, the son-in-law and horticulturist, Hermann Holtkamp, Sr. bred his first Saintpaulias on only one square meter (10.76 square feet) of greenhouse space. At the time, Mr. Holtkamp said that the African Violet would be the potted plant of the future. Our company grew many different crops, later to be replaced, one by one, by the African Violet.
In the 1960s we introduced the first non-dropping varieties capable of shipping while in bloom. In the 70s we expanded the color range and disease-resistance of violets, and in the 80s we partnered with NASA to send African violet seeds to space!

Optimara products are backed by a uniquely energetic marketing and distribution program that makes our plants as easy to sell as they are to grow. In the design of all Optimara packaging and store display materials we focus on easy set-up and low maintenance. For example, our new Qwick Covers can extend the store-life of our plants by 2 to 4 weeks.
At Optimara we know that our responsibility for our products does not stop after the sale. We maintain extensive online resources to provide consumers with valuable plant care information.

From the most popular African Violet in the world, to contemporary exotics and a complete line of
consumer plant care products, Optimara has what it takes to make your plant sales grow.
Seeking Violet Care Tips & Local Delivery Alerts?
Visit myViolet.com
Buying Violets or Houseplants Online?
Visit SelectiveGardener.com

•Fresh Violet Alerts, •Retail Store Locator(USA),
•All Optimara Variety Names in Searchable Database,
•Free Guide to African Violet Types (PDF), •Easy-Care Tips, •Tips on Artificial Light, •User Photo Gallery(submit your photos) •Info on Future Varieties

African Violet Easy-Care Tips
•150 Violets by Leaf, •Violet of the Month Club,
•Space Violets available by Leaf or Plug, •Ferns, Pilea, Peperomia, Foliage, Episcia, Fittonia, Begonia, etc.
•Specials with Vintage, Rare or New Varieties
•Optimara Soil and Fertilizer, •Ceramics & Containers

Recent Specials on SelectiveGardener

All About Violets
Care Instructions
Doctor Optimara
Diagnosis
Pests and Pathogens

Glossary of Terms
Additional Info
Best of Show
Botanical Gardens
Listed By State
Reading List
Links to Others
Virtual Tour
Optimara's History of Innovation
One of the most exciting breakthroughs in the research and development of the African Violet was in the early 1960's, with the introduction of the first non-dropping variety called Elfriede. Today all of Optimara Varieties and most all other competitive varieties available on the market have this essential genetic characteristic.

In 1961, the name of the company was changed from Dorrenbach-Holtkamp Greenhouses to Hermann Holtkamp, KG. In 1977, Holtkamp Greenhouses was founded in Nashville, Tennessee, and the Optimara brand name was introduced to the American consumer.

In 1981, we started with Optiflora, a plant care product line also under the Optimara brand name. In 1992, the company in the USA began growing miniature Poinsettias. Over the years, the company has added Elatior Begonias, Rex Begonias, many varieties of ferns and exotic foliage plants to our product line. In the future, we hope to add even more items which will give the company new and exciting opportunities in delivering a diverse product line to the consumer into the 21st century.