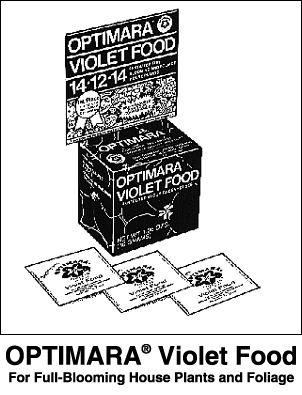 Sheet# A-00123
SAU 2 x 7 col. in. and 1 x 3.5 col. in.
[Copy:] Fully-dissolving, chelated elements for complete nutrition. Contains no urea, so it cannot cause root burn. Test for use in the MaxiWell, MiniWell and Watermaid self-watering systems. Pre-measured for convenient feeding. Makes 15 gallons.
"Same Formula Used by World Famous Holtkamp Greenhouses."
For More Information . . .
For more information about line art for Optimara products, send e-mail to sales@optimara.com.
Copyright 1999-2002 Optimara/Holtkamp Greenhouses, Inc. Nashville, Tennessee. WaterShip, WaterShip Instant Merchandising, Violets-Do-Windows and Self-Watering Ceramics are trademarks of Holtkamp Greenhouses, Inc., USA. Optimara, the Optimara logo, MiniWell, MaxiWell, WaterShip and Watermaid are trademarks of International Plant Breeding, A.G., Switzerland.