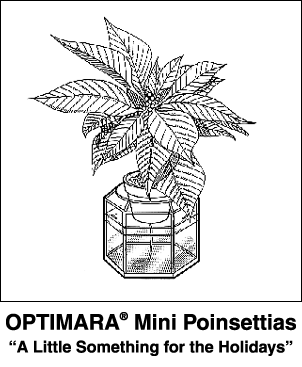 Sheet# A-01150
SAU 2 x 7 col. in. and 1 x 3.5 col. in.
[Copy:] With Optimara Mini Poinsettias, you can fit a big holiday tradition just about anywhere.
No larger than a coffee cup, these beautiful Mini Poinsettias are ideal for office settings as well as dinner settings. Their warm, red foliage adds a festive touch that brings the gift-giving season to everyone on your list. For any occasion where people and the holiday spirit can be found together.
Each Optimara Mini Poinsettia comes with its own self-watering MiniWell. Made of durable crystal styrene, the MiniWell provides an attractive way to make plant care simple.
Optimara Mini Poinsettias. For Everyone on Your List.
For More Information . . .
For more information about line art for Optimara products, send e-mail to sales@optimara.com.
Copyright 1999-2002 Optimara/Holtkamp Greenhouses, Inc. Nashville, Tennessee. WaterShip, WaterShip Instant Merchandising, Violets-Do-Windows and Self-Watering Ceramics are trademarks of Holtkamp Greenhouses, Inc., USA. Optimara, the Optimara logo, MiniWell, MaxiWell, WaterShip and Watermaid are trademarks of International Plant Breeding, A.G., Switzerland.