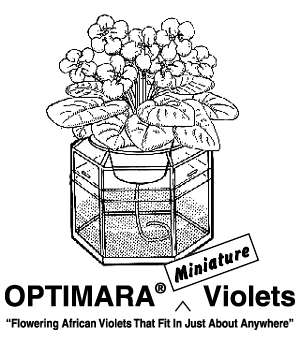 Sheet# A-01100
SAU 2 x 7 col. in. and 1 x 3.5 col. in.
[Copy:] As a flowering plant small enough for a "1-inch" pot, Optimara Miniature Violets have a way of fitting in where other house plants would just get in the way.
On your desk at work, for instance. Or at home, on a window sill too narrow for anything else. Or at a dinner party, a flowering Miniature Violet at each place setting.
Every Optimara Miniature comes with its own self-watering MiniWell. Made of durable crystal styrene, the MiniWell provides an attractive solution for plant lovers with busy schedules.
Optimara Miniature Violets Made to Fit, In Assorted Varieties and Colors.
For More Information . . .
For more information about line art for Optimara products, send e-mail to sales@optimara.com.
Copyright 1999-2002 Optimara/Holtkamp Greenhouses, Inc. Nashville, Tennessee. WaterShip, WaterShip Instant Merchandising, Violets-Do-Windows and Self-Watering Ceramics are trademarks of Holtkamp Greenhouses, Inc., USA. Optimara, the Optimara logo, MiniWell, MaxiWell, WaterShip and Watermaid are trademarks of International Plant Breeding, A.G., Switzerland.