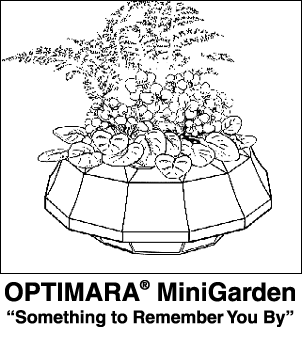 Sheet# A-01700
SAU 2 x 7 col. in. and 1 x 3.5 col. in.
[Copy:] A lively bouquet of flowering Miniature Violets in a veil of fresh, green foliage makes the Optimara MiniGarden a delightful centerpiece or gift. For parties, dinners or just something to remember you by, the Optimara MiniGarden provides a very special arrangement.
Combined with the Optimara self-watering feature, the MiniGarden makes an alluring accent that is both elegant and easy to care for. It's a sure way to keep a good thing growing.
Optimara MiniGarden. The Beginning of Something Really Beautiful.
For More Information . . .
For more information about line art for Optimara products, send e-mail to sales@optimara.com.
Copyright 1999-2002 Optimara/Holtkamp Greenhouses, Inc. Nashville, Tennessee. WaterShip, WaterShip Instant Merchandising, Violets-Do-Windows and Self-Watering Ceramics are trademarks of Holtkamp Greenhouses, Inc., USA. Optimara, the Optimara logo, MiniWell, MaxiWell, WaterShip and Watermaid are trademarks of International Plant Breeding, A.G., Switzerland.