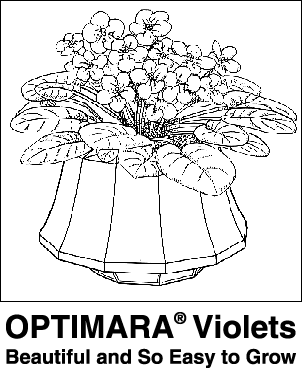 Sheet# A-01400
SAU 2 x 7 col. in. and 1 x 3.5 col. in.
[Copy:] If you have ever thought that African Violets were difficult to grow, you should try Optimara Violets grown in the self-watering MaxiWell.
All Optimara African Violets are bred for their beauty and luxuriant flowering. But often taken for granted is that Optimara breeds their Violets to be healthier and easier to grow. Now, with Optimara's self-watering MaxiWell, anyone can grow flowering African Violets as beautiful as the professional's.
Optimara Violets in the Self-Watering MaxiWell. The Easiest Way to Grow Beautiful African Violets.
For More Information . . .
For more information about line art for Optimara products, send e-mail to sales@optimara.com.
Copyright 1999-2002 Optimara/Holtkamp Greenhouses, Inc. Nashville, Tennessee. WaterShip, WaterShip Instant Merchandising, Violets-Do-Windows and Self-Watering Ceramics are trademarks of Holtkamp Greenhouses, Inc., USA. Optimara, the Optimara logo, MiniWell, MaxiWell, WaterShip and Watermaid are trademarks of International Plant Breeding, A.G., Switzerland.