As a courtesy to African Violet Clubs affiliated with the AVSA, Optimara
supplies its "Best of Show" Rosette for Optimara and Rhapsodie Violets.
There is no cost to AVSA Clubs.
To receive the rosette, plus a sample kit of Optimara products, write to us at:

Optimara
Attn: Best of Show Rosette
P.O. Box 78565
Nashville, TN 37207

or e-mail us at
The components of the sample kit are free, but a fee of $15.00 is charged to cover shipping and handling costs.

When requesting the Rosette, please include the following:

Your name
Name of your AVSA-affiliated club
Date(s) of show where the ribbon will be awarded
Complete address where materials should be sent (No P.O. Boxes, please.)
Daytime telephone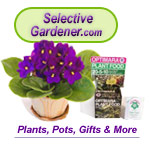 To order any of the products discussed on this page, visit
Selective Gardener


Copyright 1999-2002 Optimara/Holtkamp Greenhouses, Inc. Nashville, Tennessee. Doctor Optimara, the Doctor Optimara logo and Optimara Field Guide are trademarks of Holtkamp Greenhouses, Inc. Optimara, the Optimara logo, EverFloris, MiniWell, MaxiWell, WaterShip and Watermaid are trademarks of International Plant Breeding, A.G., Switzerland.