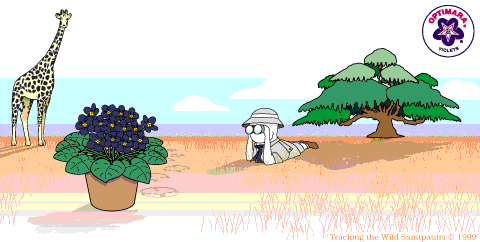 Optimara Violets By Series: Rhapsodie
Search for Rhapsodie Violets by color: (For useful tips on searching by color, see "Notes" at the bottom of this page.)
Search for Rhapsodie Violets by name:
Note: Violets Which May Fit More Than One Color Classification
When searching by color, keep in mind that any interpretation of color is based on subjective perception. In many cases, the color classification of an African Violet will be representative of most everyone's perception. In other cases, however, an African Violet will not be so easily classified. For instance, an African Violet which has been classified as blue may, for some, appear more purple. Likewise, an African Violet which has been classified as pink may appear more red. As a consequence, you may need to check more than one color to find the Violet you are looking for.
Note: Lilac and Burgundy Violets
Two specific instances of colors which do not fit neatly into the above classifications are lilac and burgundy. For the purposes of this guide, both lilac and burgundy Violets will be found under "Purple."
Note: Bi-Color Violets Which May Appear Entirely White
Keep in mind that many bi-color Violets are almost entirely white with just a little of another color. This is often the case with African Violets on which the second color appears only on the edge. Therefore, when searching by color, be sure that the white Violet you are looking for is not, in fact, bi-color.
Copyright 1999 Optimara/Holtkamp Greenhouses, Inc. Nashville, Tennessee. Optimara Field Guide is a trademark of Holtkamp Greenhouses, Inc. Optimara and the Optimara logo are trademarks of International Plant Breeding, A.G., Switzerland.